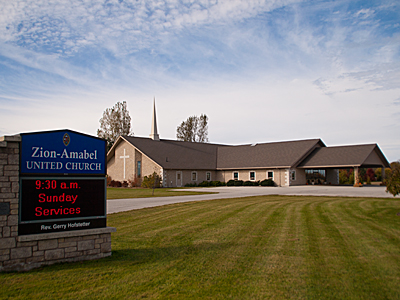 Sauble Beach United Church is a congregation of the United Church of Canada with church services at 9:30am each Sunday throughout the year.
We are in the process of becoming an affirming ministry which means we are open and inclusive of people from all walks of life and backgrounds. We welcome people from the LGBTQ community as well as those from differing church or religious traditions. There are no barriers to belonging at SBUC. Our facility is wheelchair friendly.
SBUC is a member of the Northern Bruce Peninsula Cluster.
www.brucepeninsulaunitedchurches.com
as well as the Western Ontario Waterways Regional Council  https://wowrcucc.ca
We celebrate all the major church holidays with special services and music…  see the NEWS/EVENTS drop-down and the CALENDAR for more information.
Our History:
SBUC just recently changed its name from ZION-AMABEL United Church. The Zion church was an older structure on Bruce County Rd 8 (now an antique store). During the 1990's, a surge of growth in the area brought the need for a new structure closer to town. Land was donated by the Kirkland family for a new church, which was completed in 1999, and the church people dedicated their time and talents to raise enough money to pay off the mortgage for the new building within 3 years of opening.
Sauble Beach is a resort area and attracts thousands of beach-goers in the 10 weeks of summer weather. A name change was implemented so that we could be more accessible to web searches as many visitors to the area do attend church when on extended vacation. So that's why we are now known as Sauble Beach United Church.
We welcome you to our church for Sunday worship or for any other event you may see on our calendar. We're not a closed community and we always like to see new faces. Come and see!